THE HOTTEST YEARS ON RECORD
The National Aeronautics and Space Administration (NASA), released an official statement concluding that 2018 was the fourth hottest year on record, according to two independent studies by NASA and the National Oceanic and Atmospheric Association (NOAA). The report goes on to state that 2018's temperatures rank only behind those of 2016, 2017 and 2015. The past five years are, collectively, the warmest years in the modern record. According to GISS Director Gavin Schmidt, while warming trends are strongest in the arctic region, the long-term effects of climate change are being felt in most regions through coastal flooding, heat waves, intense precipitation and ecosystem change.
2018 made for an especially challenging year for HVAC professionals, who addressed the growing need for better, more sustainable air conditioning systems and dehumidification processes. As a company based in the north-east US region, we were not immune to these long-term effects, specifically in terms of heat waves, intense precipitation, and most notably for us – humidity. EffectivEnergy Solutions' (Effectiv) President, Bob McGreevy, PE, has over 40 years of experience in the HVAC industry, from all sides of business including technical sales, service management and, professional engineering and design. The intense highs and lows and the especially oppressive humidity of 2018 made for unprecedented conditions, even for seasoned veterans, like Bob.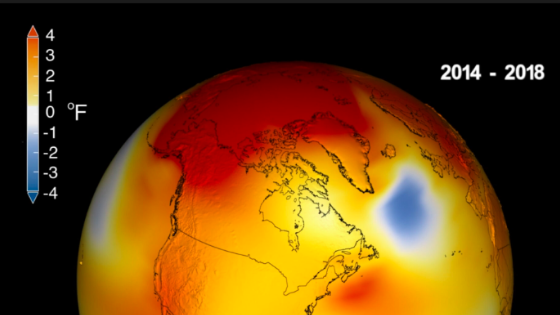 A VERY UNCOMFORTABLE SEPTEMBER
As we reflect back on 2018, the threat of climate change is becoming increasingly self-evident. One week in particular, sums up the what Effectiv and many of our colleagues in the north-east area were faced with. The week was not in the middle of July, but around Labor Day – from September 2, 2018 through September 9, 2018. These dates marked the return of students to school as well as daily record-breaking or record-tying highest maximum temperatures, maximum rain fall, AND lowest maximum temperatures for Philadelphia - all within eight days. Although many areas saw similar record breaking conditions, the data we are referencing below is for Philadelphia specifically and was taken from the official NOAA Daily Weather Records Tool. Temperature and humidity data for Philadelphia from September 2, 2018 through September 9, 2018 was taken from NOAA and The Weather Company and can be seen in Figure 1 and Figure 2 below.
Figure 1: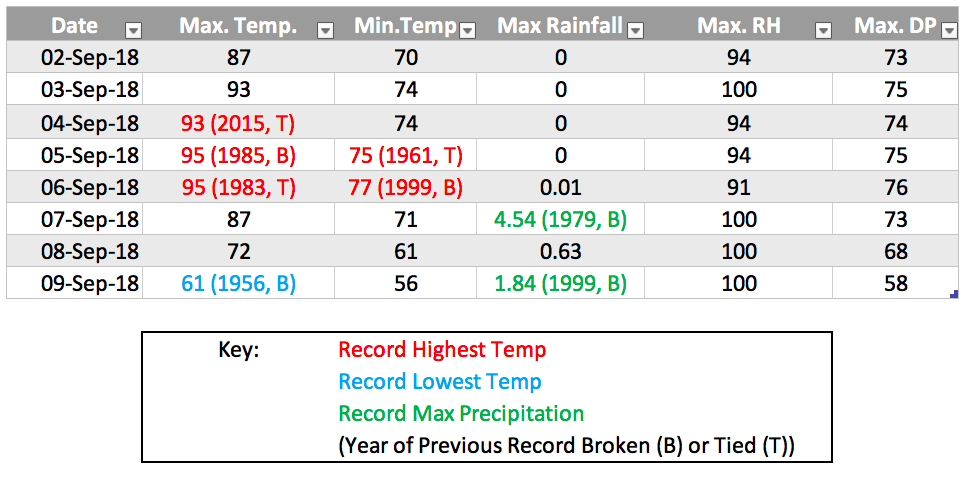 Figure 2: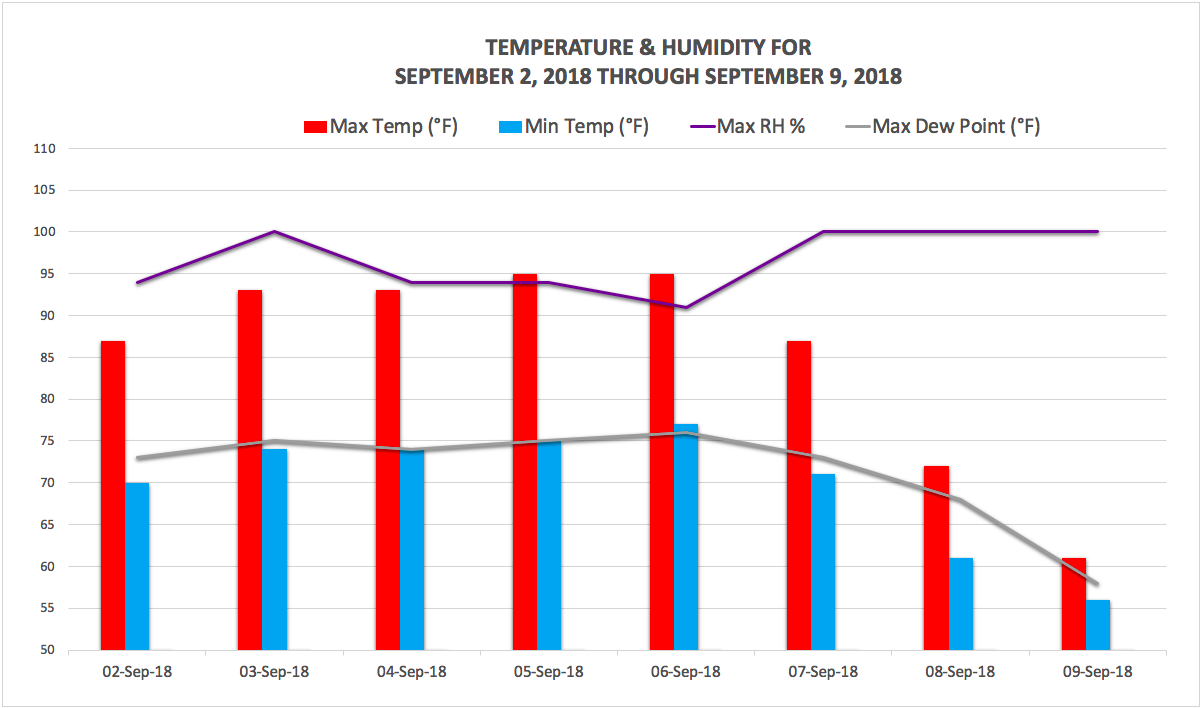 AIR CONDITIONERS ALONE ARE NOT BUILT TO DEHUMIDIFY
While temperature and precipitation were intense, high humidity was the x-factor in causing extremely uncomfortable conditions for September. Max dew points were >=70°F each day from September 2nd – September 8th and relative humidity (RH) was at or above 91% for the same days. The National Weather Service in Mount Holly points out that the month of September 2018 as a whole recorded 238 hours with dew points >=70°F in Philadelphia. The average number of September hours where dew point was >= 70°F in Philly between 1948 and 2017 was just 69.3 hours. Remember that relative humidity is a percentage of how much moisture is in the air versus how much it can hold. Dew point is an absolute measure of how much moisture is in the air. This is why dew point alone is a better determination of humidity comfortability than RH alone. For a crash course - watch this 2 minute video.
During very hot and humid days, many building occupants believe that cranking up the air conditioning by turning down the set point will always make a room more comfortable. This is because of the common misconception that air conditioning systems act as dehumidifiers. While an air conditioner might passively remove some moisture from the air – it is not the air conditioner's primary function to dehumidify. An air conditioner's primary function is to cool the room. According to the American Society of Heating, Refrigerating and Air-Conditioning Engineers (ASHRAE), in these very hot-humid climates, this incidental dehumidification that occurs, is likely not enough to keep the indoor humidity conditions acceptable. We saw exactly this from September 3 – September 6 when 93°F+ temperatures combined with the 90%+ RH. Air conditioners did the job they are were built to do, but not the job some expected them to do.
An additional climate where air conditioners are not efficient in controlling humidity is during cooler, more humid days. A perfect example of this is September 8th and September 9th. On these days, temperatures did not surpass 71°F - in fact, September 9 even broke the record for daily lowest max temperature at a high of just 61°F. Temperatures stayed low BUT RH reached as high as 100% on both days. Ideal conditions for keeping rooms comfortable is a 72°F DB temperature at 50% RH. While air conditioners use temperature as a control point, they are oblivious to both outside and inside RH. Only a dehumidification unit recognizes humidity as a control point. On cool days like September 8 and September 9, the air conditioner would rarely recognize a need to cool or turn on, despite such a high RH. This perfect storm causes uncomfortable rooms not unlike the 93° days prior.
Implementing an Advanced Dehumidification System, designed specifically to combat humidity problems during all climates, can prevent comfort and mold issues. In some situations, these systems can even be applied to your existing HVAC equipment and reduce energy costs by lowering HVAC run-times that were needed to control humidity.
Spring and Summer 2019 are right around the corner and we'll likely see the same warming trend from years past. If you're concerned with your HVAC system's potential to keep occupant's comfortable in a changing climate, contact us to learn more about our Advanced Facility Dehumidification and other solutions.
GROWING RESPONSIBILITY FOR HVAC PROFESSIONALS AND BUILDING OWNERS
According to the Green Building Council, "The buildings and construction sector accounts for 39% of carbon dioxide (CO2) emissions in the United States per year, more than any other sector." A growing awareness around climate change and the effects it has on our ecosystem – effects we are already experiencing first hand - has fueled the demand for sustainable building design.
The average LEED certified building uses 32% less electricity and saves 350 metric tons of CO2 emissions annually Energy efficient systems like geothermal, photovoltaic and wind power help to combat CO2 emissions and in turn fight climate change (GBC). As an added bonus, environmentally responsible buildings are more profitable for building owners and healthier for building occupants.
The responsibility of HVAC professionals in conjunction with building owners is now two-fold.
Design and build environmentally sustainable buildings to reduce CO2 emissions and fight climate change and
Keep building occupants comfortable in regions where we are already faced with the effects of climate change – like we saw in September.
Effectiv's mission is just what these responsibilities call for us to do – reduce carbon footprints and improve comfort. If you're concerned with your HVAC system's potential to keep occupant's comfortable in a changing climate, contact us to learn more about our Advanced Dehumidification Solutions . Or if you're interested in our sustainable building services, contact us to below to learn more.