PA C-PACE UPDATE:
Montgomery County became the latest PA County to pass resolution establishing
Commercial Property Assessed Clean Energy (C-PACE)
. Montgomery is now the 9th
county in PA to adopt the program.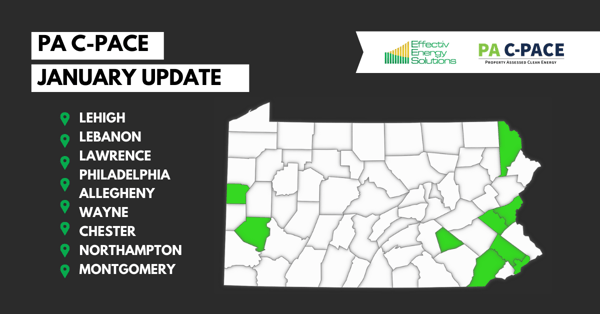 The full list of counties that have opted into the program are:
Northampton

Chester
Allegheny
Lebanon
Philadelphia
Wayne
Lawrence
Lehigh
Montgomery
Several other PA Counties are actively pursuing the opportunity to adopt C-PACE. We very well could see voting from additional counties occur in the next 4-8 weeks.
C-PACE is a financial solution that allows commercial property owners to obtain low-cost, long-term financing for energy efficiency, renewable energy and water conservation projects.
Nationally, half a billion dollars has been invested through C-PACE loans, and many industry experts expect that number to double in the next few years. In Pennsylvania, C-PACE investment could help retrofit one of the nation's oldest building stocks and accelerate growth in a local energy efficiency industry that already accounts for 65,000 jobs and counting.
C-PACE AT A GLANCE
Up To 100% Funding:

C-PACE can provide up to 100% up-front private capital for commercial clean energy and energy efficiency commercial projects.
Attached to the Property: A C-PACE lien is attached to a property, making the loan a very secure form of financing. The lien transfers upon sale of the building to the new property owner.
Used for Existing Buildings and New Construction: In PA, C-PACE can be used for existing buildings and new construction of commercial, industrial and non-profit properties.
Example Projects:

Energy Efficiency: LED Lighting and/or lighting controls, HVAC Upgrades, high efficiency chillers, boilers, heat pumps, hot water systems, building envelope improvements
Renewable Energy: Geothermal heat pumps, photovoltaic power, solar thermal, wind power, fuel cell, methane gas from landfills
Water Conservation: New faucets or toilets with low flow options, new laundry equipment, processes or equipment that demonstrate water savings of 25% or more.
Window & Building Envelope Upgrades: Building Envelope projects including Window upgrades are also wrapped into the 100% financing.
*This is a non-exhaustive list. Property owners will need to apply with the Program Administrator to ensure their project meets Program Guidelines.
C-PACE SET UP PROCESS
C-PACE is a voluntary program that must first be adopted by the state. In the case of PA, this was enabled in the Summer of 2018 through Act 30. From there, it must be adopted by local government (whether that be county or municipality). The local government must pass a resolution in order for C-PACE to to be established in their community.
C-PACE PROGRAM ADMINISTRATION
A C-PACE program is run by an administrator, which can be either the local government itself or, more commonly, a third-party non-profit organization. The administrator facilitates C-PACE financing by connecting project developers to qualified contractors and lenders, as well as coordinating remittance of the loan from the property tax bill back to the C-PACE lender.
Sustainable Energy Fund, located in Schnecksville, PA, has openly offered to act as the Program Administrator for any local government in the Commonwealth of PA - providing a turn-key C-PACE program administration platform that can be adopted at no cost to the county.
HOW TO APPLY FOR A C-PACE LOAN
Property Owner submits a pre-application that is reviewed by the Program Administrator for general eligibility
Property Owner works with an engineering firm or other energy services company to evaluate the energy and water use of the property to develop an energy efficiency or clean energy project
Property Owner selects a private capital provider/lender and quality contractor. The property owner and capital provider develop mutually agreeable repayment terms.
Property Owner submits a final application to ensure the improvement project(s) meets the Program Guidelines.
Close financing and record Assessment Contract and Bond Agreement
Project Implementation
NEXT STEPS
Not sure where to start? Interested to see if your project qualifies for C-PACE? Contact us for help!
Financial partner looking for an engineer? We're your team!
EffectivEnergy Solutions is a full service engineering firm specializing in energy conservation and renewable energy alternatives. We offer C-PACE engineering services from energy modeling to full-service MEP design.
If you have questions about C-PACE or would like to partner with us, please contact us using the link below.
Sources:
Keystone Energy Efficiency Alliance