Commercial building facilities managers & commercial building owners often struggle to get technically sound energy efficiency and renewable energy projects approved for financial reasons.
Other times, property managers simply cannot get internal capital allocated to implement clean energy conservation projects or cannot gain approval for the use of external financing.
For commercial building property owners and facilities managers - The Property Assessed Clean Energy (PACE) financing opportunity can remove the typical barriers that come with the implementation of energy conservation building improvements and add many valuable benefits to the facilities, tenants, and owners!
4 IMPORTANT C-PACE STEPS
1. Complete a comprehensive Professional Energy Audit/Assessment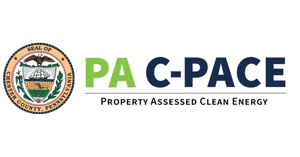 2. Professionally Design an Energy Reduction Plan (ERP)
3. Calculate ERP Implementation Expenses (New Equipment, Engineering Fees, Construction Costs) and Savings (Energy and Water)
PACE can cover up to 100% of a projects hard and soft costs
4. After calculating hard and soft costs of implementing ERP and energy savings through ERP and Renewables (If needed) then calculate property tax pay back per year (C-PACE Financing Payments).
---
C - PACE EXAMPLE (HYPOTHETICAL):
BANK LOANS Vs. C-PACE FINANCING
Ordinarily if someone is looking for financing to implement a retrofit profit project that would most likely look to a Bank Loan – pay back over 6-8 years with PACE pay back hard and soft costs (Our Effectiv Fees/costs) is amortized over 20 YEARS.

Bank Loan normally requires credit rating on Individual and/or business. With PACE a Property Owner pays back hard and soft costs of project through a raise in Property Taxes (No Credit Rating Check Required nor on Individual or Business.)

Government then collects payments and pays Lender – Lender no-longer worried about credit or certainty of payments because payments are backed by the government.

No Capital down, No Credit Rating required, Potential Positive Continuous Positive Cash Flow, New Equipment, New Controls, Efficient and "green" Building



IMPORTANT & BENEFICIAL NOTES:


Can be combined with utility, local and federal incentive programs

Energy Projects are permanently affixed to the property (Equipment & Property Taxes)

Once project cost is paid off – property taxes go back down to original levels

The annual energy savings for a PACE project usually exceeds the annual assessment payment, so property owners are cash flow positive immediately – results in increased dollars that can be spent on other capital projects, budgetary expenses, and/or business expansion.

The PACE assessment is filed with the local municipality as a lien on the property
---
Here are 4 Benefits of utilizing PACE financing for Energy Efficiency and Renewable Energy Projects that can add substantial value to commercial building owners and companies and their buildings..
100% FINANCING:
"100% of Project costs, including soft costs such as development fees, can be financed through PACE, which removes the requirement for out-of-pocket expenses for owners." (Pg. 5)
PACE covers 100% of the hard and soft costs of an energy project so property owners don't have to put any money down.

Property owners can reallocate funds previously reserved for energy projects.

This is especially important for properties with limited expenditure budgets (nonprofits, new businesses, etc.).
20 YEAR TERMS:
"PACE financing is available with flexible terms up to 20+ years, making it possible to increase net operating income by implementing projects with simple paybacks reaching almost 12 years. This increased net operating income translates to higher property values for building owners." (Pg.5)
PACE allows finance terms up to 20 years while standard commercial lending rarely exceeds 5-7 years.
Allows projects with payback of 20 years, rather than only low-hanging fruit with quick paybacks. Longer terms may also mean that yearly savings more than make up for yearly payments from day one.
SOLVES TENANT/OWNER SPLIT INCENTIVES:
"PACE makes it possible for the landlord to improve a property's energy efficiency with no negative effect on EBITDA or cash flow. At the same time, tenants' EBITDA and cash flow can increased by selecting the proper tenure for PACE financing, hence ensuring that the annual energy savings enjoyed by the tenants exceed the annual PACE assessment. Pace provides a win-win solution for landlords and tenants." (Pg. 6)
PACE tax assessments can be passed on to tenants under most lease forms.
Tenants save on energy costs and experience the same net payments, or sometimes less!
TRANSFERABILITY:
"The obligation to repay PACE financing automatically transfers to the new owner upon the sale of the property." (Pg. 2)
PACE is attached to the building, not an individual or business.
If the building is sold, PACE repayment seamlessly transfers to the new owner as part of the taxes, as well as the savings from the energy project.
Removes part of the risk in investing in capital expenditures.
FIND OUT IF YOUR BUILDING/FACILITY QUALIFIES FOR C-PACE BY CLICKING THE LINK BELOW...